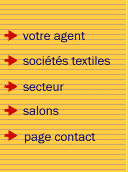 Based on France, at Lyon, Soreti is the agent of several fabrics companies in the fields of ready-to-wear (ready-to-wear for ladies, manswear, childrenswear), and lingerie.

Soreti is a textile agency that is well introduced with french ready-to-wear and lingerie manufacturers. Soreti has many famous customers in its clientele, and operates in France (South, East, West). See Map.
If you are looking for a french agent and want to know more about Soreti, you can contact us.